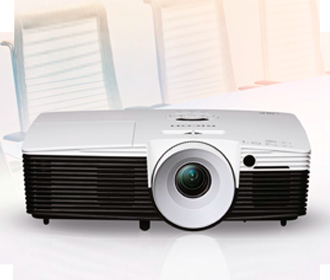 Neat and lightweight with outstanding image quality
Description
Ricoh's PJ WX5460 offers high durability thanks to the projection technology used and its intuitive user interface is easy to set up and simple to use. An image output of 4100 lumens and a high contrast setting of 10,000:1 produces sharp, high quality images for your presentations. Additionally thanks to a long lamp life of up to 4,000 hours, reduces the need for replacement and maintenance.
Easy to carry
At only 3.0kg in weight and with a footprint just larger than an A4 sheet of paper, the compact size of the PJ WX5460 makes it easy to carry to presentations. It is also simple to set-up and intuitive to operate with a convenient remote control so you do not have to sit with the projector. The flexible choice of interface connections includes HDMI, allowing input from a range of devices.
Key Strengths
1,280 x 800 (WXGA) resolution for sharp displays
4100 lumens output gives bright, clear presentations
Wide range of interface input including HDMI, 2x computer and sound
Control projector remotely thanks to utility software and LAN capability
Utilising BrilliantColor™ technology to boost secondary colours
General Specifications
GENERAL

| | |
| --- | --- |
| Projection system | Single chip DLP |
| Resolution | X5460: 1024 x 768, WX5460: 1280 x 800, HD5450: 1920 x 1080 |
| Panel | PJ WX5460/HD5450: 0.65 inch , PJ X5460: 0.55 inch |
| Brightness | X5460: 4000 lumen , WX5460: 4100 lumen , HD5450: 3500 lumen |
| Contrast ratio | WX5460/HD5450: 2000:1 , X5460: 2200:1 |
| High contrast ratio | 10000:1 |
| Projection screen size | WX5460: 30″-300″, X5460: 30″-300″, HD5450: 38″-300″ |
| Projection distance | X5460: 1.2 to 12 m , WX5460: 1 to 10 m , HD5450: 1.5 to 10 m |
| Throw ratio | X5460: 1.95-2.15:1 , WX5460: 1.55-1.7:1 , HD5450: 1.5-1.8:1 |
| Lamp | High-pressure mercury lamp (Dual) |
| Lamp life | Standard: 3000 hours (260 W), Eco mode 1: 4000 hours |
| RGB compatible signals – Real display | X5460/WX5460: WXGA, XGA, SVGA, VGA, HD5450: WXGA, XGA, SVGA, VGA, FHD, WSXGA, WXGA+, SXGA |
| RGB compatible signals – Compressed representation | PJ X5460: UXGA, SXGA, WXGA, PJ WX5460: UXGA, SXGA, PJ HD5450: UXGA |
| Input signals | NTSC, PAL, SECAM, NTSC4.43, PAL-M, PAL-60 |
| Analogue RGB compatible scanning frequency – Horizontal | 30 – 100 kHz |
| Analogue RGB compatible scanning frequency – Vertical | 50 – 85 Hz, 120 Hz for 3D mode |
| Zoom ratio | x1.1 (manual), HD5450 : x1.2 (manual) |
| Connection terminal (X5460/WX5460) | Mini D-SUB15pin x 2 (Computer IN), Mini D-SUB15pin x 1 (Monitor OUT), Mini DIN 4pin x 1 (S-Video), RCA_1pin x 1 (Video), D-SUB 9pin x 1 (RS-232C) (PC Control), Mini Jack x 1 (Audio1 IN, Audio2 IN, Audio OUT), USB-TYPE-minB x1, HDMI(1.4) x 1, RJ45 (for control) |
| Connection terminal (HD5450) | Mini D-SUB15pin x 1 (Computer IN), Mini DIN 4pin x 1 (S-Video), RCA_1pin x 1 (Video), D-SUB 9pin x 1 (RS-232C) (PC Control), Mini Jack x 1 (Audio1 IN, Audio OUT), USB-TYPE-minB x1, HDMI(1.4) x 2, RJ45 (for control) |
| | |
| --- | --- |
| Primary features | Mute (Blank), Freeze, Re-size (Magnify), Eco mode, 3D ready, Wall Color mode, Security bar, Kensington lock |
| Built-in speaker | 10 W mono |
| Dimensions (W x D x H) | 314.2 x 223.5 x 101.7 mm |
| Weight | 3 kg |
| Supported languages | English, German, French, Italian, Spanish, Dutch, Swedish, Norwegian, Danish, Finnish, Hungarian, Czech, Polish, Portuguese, Russian, Korean, Traditional Chinese, Simplified Chinese, Turkish, Arabic, Indonesian, Japanese, Thai |
| Power source | 100 – 240 V, 50/60 Hz |
ECOLOGY

| | |
| --- | --- |
| Power consumption – Operating power | 347 W |
| Power consumption – Energy Saver mode | 292 W |
| Power consumption – Stand-by mode | 0.5 W |
| Operating temperature | 5°C – 40°C |
| Operating humidity | 80% |
| Storage conditions – Temperature | -20°C – 60°C |
| Noise level | Standard mode: 37 dB, Eco Mode: 34 dB |