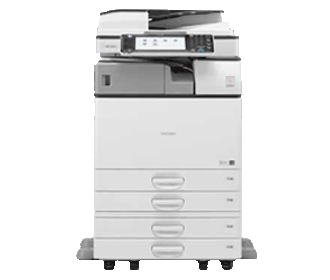 Digital B&W Multi Function Printer
Description
If you need an A3 black and white workhorse MFP that is not going to take up lots of office space, then the MP 2014AD is the solution. A low initial price and highly competitive operating expenses gives you a very economical Total Cost of Ownership. With a comprehensive feature set the MP 2014AD is packed with advanced functionality, designed to improve your business efficiency, saving you time and cutting costs.
Intuitive & Easy Navigation
With the RICOH MP 2554/MP 3054/MP 3554 series, you can print, copy, scan and fax documents and move on to your next project just as quickly. Intuitive drag-and-drop, pinchand-flick and swipe scrolling simplify routine actions and minimize extraneous choices. It's available via the optional 10.1″ Wide Super VGA RICOH Smart Operation Panel. It simplifies the choices for the most frequently used functions for Copy, Scanner, Print and Fax.
Key Strengths
Produce up to 35 pages per minute
Connect from anywhere using location-free mobile printing
Simplify workflow and perform more tasks without increasing footprint size
Complete more types of jobs with flexible media handling
Minimize operating costs with energy-saving efficiency
General Specifications
General
Warm-up time:
14.0 seconds
First output speed:
4.6 seconds
Continuous output speed:
30 pages per minute
Memory:
2 GB RAM : HDD: 320 GB
Dimensions (W x D x H):
With ARDF: 587 x 680 x 913 mm
Weight:
With ARDF: 68.5 kg
Power source:
220 – 240 V, 50/60 Hz
Copier
Copying process:
(Twin) laser beam scanning and electro-photographic printing
Multiple copying:
Up to 999 copies
Resolution:
600 dpi
Zoom:
From 25% to 400% in 1% step
Printer
Printer language:
Standard: PCL5e, PCL6(XL), PDF direct printOption: XPS, Adobe® PostScript® 3™, IPDS
Print resolution:
Maximum: 1,200 x 1,200 dpi
Interface:
Standard: USB 2.0, SD slot, Ethernet 10 base-T/100 base-TX, Ethernet 1000 Base-TOption: Bi-directional IEEE 1284, Wireless LAN (IEEE 802.11a/b/g/n), Bluetooth, Additional NIC (2nd port)
Network protocol:
TCP/IP (IP v4, IP v6), IPX/SPX (Option)
Windows® environments:
Windows® XP, Windows® Vista, Windows® 8.1, Windows® Server 2003, Windows® Server 2012, Windows® Server 2012R2
Mac OS environments:
Macintosh OS X Native v10.6 or later
UNIX environments:
UNIX Sun® Solaris, HP-UX, SCO OpenServer, RedHat® Linux, IBM® AIX
SAP® R/3® environments:
SAP® R/3®
Other supported environments:
NDPS Gateway, AS/400® using OS/400 Host Print Transform, IBM iSeries
Scanner
Scanning speed:
ARDF: Max. 80 originals per minute
Resolution:
Maximum: 600 dpi
Original size:
A3, A4, A5, B4, B5, B6
Bundled drivers:
Network TWAIN
Scan to:
E-mail, Folder, USB, SD card
Fax
Circuit:
PSTN, PBX
Compatibility:
ITU-T (CCITT) G3
Resolution:
8 x 3.85 line/mm, 200 x 100 dpi8 x 7.7 line/mm, 200 x 200 dpi

Option: x line/mm, x dpi

Transmission speed:
G3: 2 second(s)
Modem speed:
Maximum: 33.6 Kbps
Memory capacity:
Maximum: 60MB
Paper handling
Recommended paper size:
A3, A4, A5, A6, B4, B5, B6
Paper input capacity:
Maximum: 4,700 sheets
Paper output capacity:
Maximum: 3,625 sheets
Paper weight:
Standard paper tray(s): 60 – 300 g/m²Bypass tray:52 – 300 g/m²

Duplex unit: 52 – 256 g/m²

Ecology
Power consumption:
Maximum: 1,600 WReady mode: 54.6 W (25/30/35 ppm)

Sleep mode: 0.49 W (25/30/35 ppm)

Software
Standard:
Web Image Monitor
Optional:
GlobalScan NX, Streamline NX, Card Authentication Package, Enhanced Locked Print
Options
1 x 550-sheet paper tray, 2 x 550-sheet paper tray, 2,000-sheet large capacity tray, 1,500-sheet side large capacity tray, Bridge unit, 1,000-sheet finisher, Internal finisher, Internal finisher with stapleless stapler, 1,000-sheet booklet finisher, Punch kits, Internal shift tray, One-bin tray, Side tray, Caster table, Low cabinet, Bi-directional IEEE 1284, USB Device Server, Bluetooth, Netware, PostScript3, IPDS unit, Browser unit, Counter interface, File format converter, Key counter bracket, Card reader bracket, Copy Data Security Unit, Fax Connection Unit, 2nd Super G3 port, Fax memory, Fax option, Wireless LAN (IEEE 802.11a/g/n), OCR Unit, Smart Card Reader Cover Built-in Unit, XPS direct print, Enhanced security HDD